FREDDY KRUEGER SNAKE DESIGN MAQUETTE - 17.75"H x 8.5"L x 8.5"W
$

419.00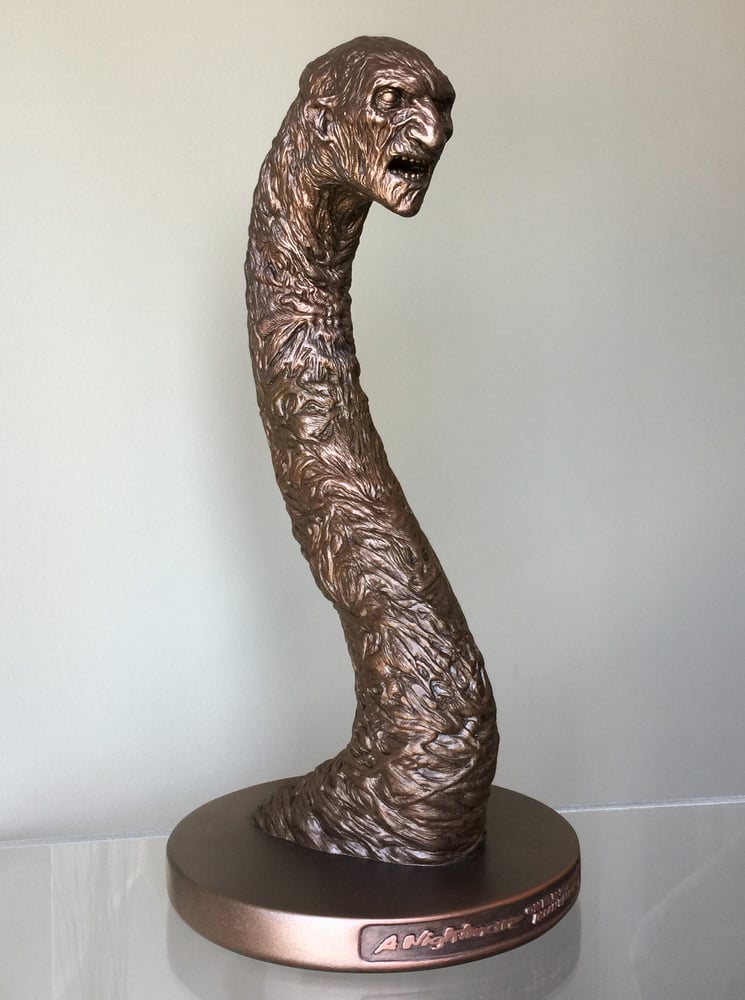 This detailed maquette was designed and sculpted by Kevin Yagher during the pre-production phase of A Nightmare on Elm Street 3: Dream Warriors. He used it as a design study prior to beginning the full-size sculpture of the Freddy Snake. Within the scarred tissue, Kevin sculpted hidden words including "Yagher," "Nightmare 3" and "Freddy."
There will be a limited run of these artist proofs created in-house at Kevin's studio. They will be cast out of a dense, high quality urethane resin (over 5 lbs) and hand-painted with a bronze faux finish. Each maquette will have an inset logo of the film's title on the front and an inscription on the back that reads "Preproduction Maquette Sculpted by Kevin Yagher."
Every limited-edition Freddy Snake maquette will be personally signed on the bottom by Kevin and will include a certificate of authenticity also signed by Kevin.
Due to the made-to-order nature of each piece, please allow 8 – 12 weeks for delivery (or sooner depending upon demand).
The listed shipping cost is for the continental United States only (excluding Alaska and Hawaii). If you live outside of the continental U.S., please email us for a shipping quote (yagherfx@gmail.com).